Software / Graphics & Design →
ANSYS Sherlock Automated Design Analysis 2019 R3 6.2.2 (x64)
Published by: LeeAndro on 14-11-2019, 16:08 |
0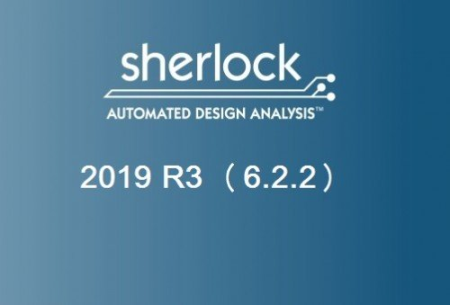 File size: 360 MB
ANSYS Sherlock Automated Design Analysis software is the only Reliability Physics/Physics of Failure (PoF)-based electronics design software that provides fast and accurate life predictions for electronic hardware at the component, board and system levels in early design stages.
Sherlock revolutionizes electronic design by empowering designers to simulate real-world conditions and accurately model PCBs and assemblies to predict solder fatigue due to thermal, mechanical, and shock and vibration conditions.
Approximately 73% of product development costs are spent on the test-fail-fix-repeat cycle. Sherlock design software provides fast and accurate reliability predictions in the earliest design stages tailored to specific materials, components, dies, printed circuit board (PCB)/ball grid array (BGA) stackups and specific use conditions.
With libraries containing over 500,000 parts, Sherlock reduces FEA modeling time and provides insights before prototyping, eliminating test failures and design flaws, while accelerating product qualification and the introduction of groundbreaking technologies.
During pre-processing, Sherlock automatically translates ECAD and MCAE data into 3D finite element models in minutes. In post-processing, Sherlock automates thermal derating and democratizes the thermal and mechanical analysis of electronics - meaning analysis is done in 45 minutes rather than weeks.
Sherlock seamlessly integrates with already existing simulation workflows in the hardware design process. It is most valuable when implemented in the early design stages, such as:
Initial part selection
Initial part placement
Selecting final bill of material
Final layout
Design for Manufacturing
Sherlock makes ANSYS SIwave, ANSYS Icepak and ANSYS Mechanical users more efficient. It directly connects simulation to material and manufacturing costs.
Additionally, Sherlock's Locked IP Model protects intellectual property in the supply chain. With the Locked IP Model, you can transfer designs back and forth between design suppliers and design users while preserving PCB design details; the intended use of the PCB design will not be disclosed via environmental conditions or reliability requirements. This communication tool enables two entities to work together on a system with a layer of trust built into the reliability calculations.
Sherlock simplifies and improves reliability prediction using a unique, three-phase process consisting of data input, analysis, and reporting and recommendations.
DATA INPUT
With its extensive parts/materials libraries, Sherlock automatically identifies your files and imports your parts list, then builds a finite element analysis model of your circuit board in minutes by:
Parsing standard EDA files (schematic, layout, parts list) automatically
Using embedded libraries (part, package, materials, solder, laminate)
Building box-level finite element analysis models
ANALYSIS
Sherlock produces a holistic analysis that is critical in the development of reliable electronics products. It enables designers to simulate each environment, failure mechanism and assembly that a product might encounter over its lifespan.
Assessment options include:
Thermal cycling
Mechanical shock
Natural frequency
Harmonic vibration
Random vibration
Bending
Integrated circuit/semiconductor wear-out
Thermal derating
Failure rate analysis
Conductive anodic filament (CAF) qualification
High-fidelity PCB modeling
REPORTING AND INSIGHTFUL, ACTIONABLE RECOMMENDATIONS
Sherlock presents results in multiple formats, including comprehensive, professional reports suitable for internal and external distribution. Available report forms include:
Complete life curves (not available from other software suppliers)
Tables
Histograms
Overlays
Updates: official site does not provide any info about changes in this version.
DOWNLOADuploadgigrapidgatornitroflare
Related News
Comments (0)