Published by: LeeAndro on 15-09-2021, 09:57 |
0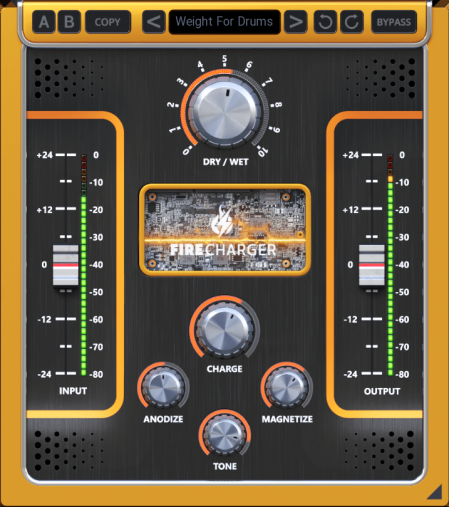 File size: 14 MB
Do your tracks sound dull or tired
They need energy. They need to get charged. FireCharger can get your mix or instrument recording to the next level touching just a few knobs (or just one in most cases). FireCharger is a universal processor with an intelligent algorithm for spectral chag and instant sound improvement, including emulation of an analogue tape and advanced exciters.
Intelligent analysis
FireCharger is based on the intelligent spectral dynamic processing. It analyses your audio material and gets it as close as possible to what our sound eeers consider ideal. The result is richer and more balanced sound of any track.
Fast and simple
There are not too many processors with such function and there is definitely none with such simplicity of use. In most cases, you can just load a FireCharger preset and simply dial the Dry/Wet knob to decide how radical the change of your sound will be.
Anodize
Anodize sets the amount of energy your tracks will temporarily gain using the charger when they need it. Be careful with that so that your tracks wouldn't burn.
Magnetize
Aside from spectral dynamics, your tracks can get extra charge by deploying the Magnetize parameter. This feature controls the advanced vintage tube tape-machine saturation simulation which can give your sound some additional warmth and live feel.
Brighten up your tone
To make your tracks shine, we added a special sophisticated height dynamic exciter. The Tone control helps the higher frequencies to get well pronounced and make your tracks brighter.
Use all the
FireCharger can be used as a mastering plugin (at the end of the plugin chain) as well as to improve single tracks. It will add body and brightness to acoustic guitars and vocals, improve your drums and bass guitar tracks and charge electric guitar performance. Try it on everything!
PLATFORM: VST/VST3/AAX(MOD)
DOWNLOADuploadgig.comrapidgator.netddownload.com
Related News
Comments (0)